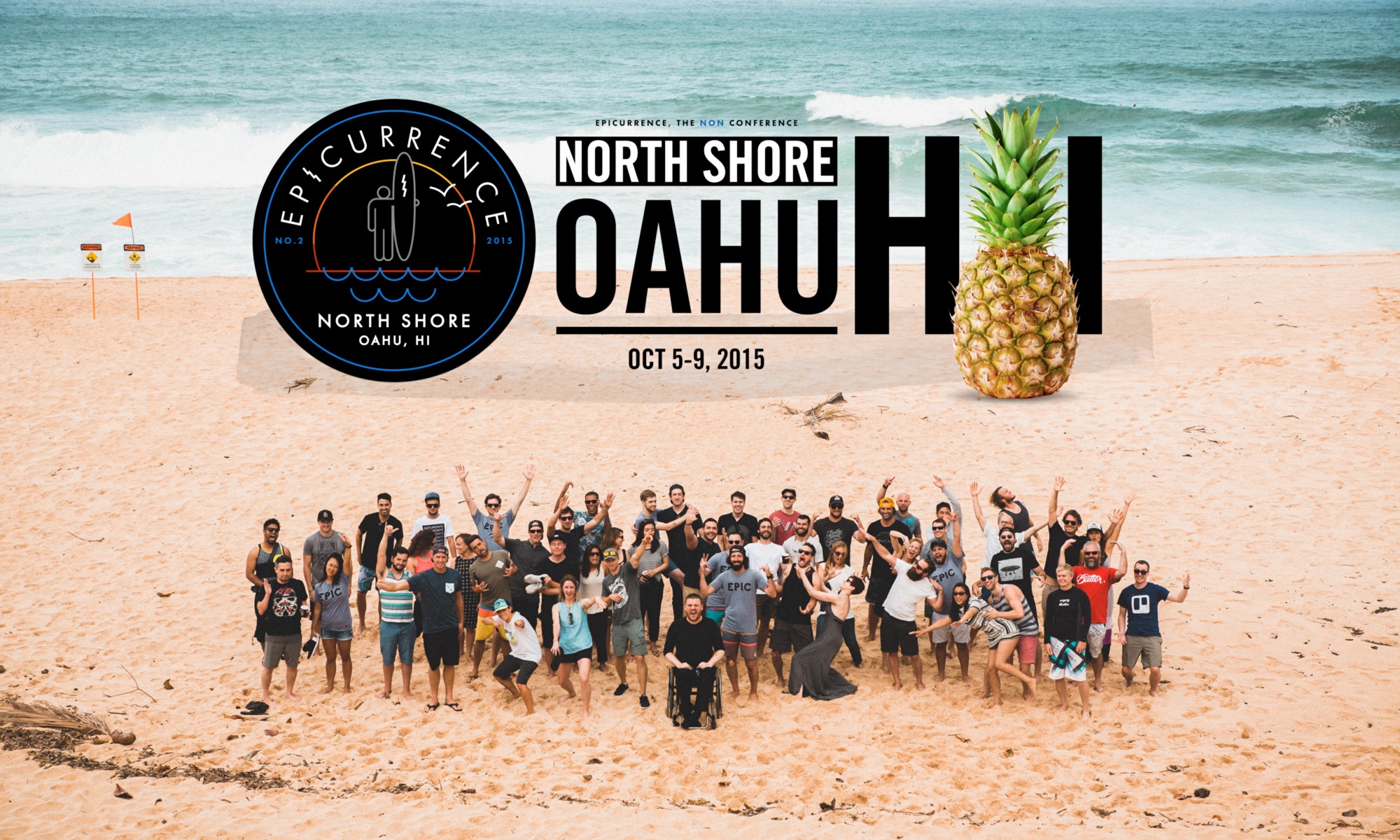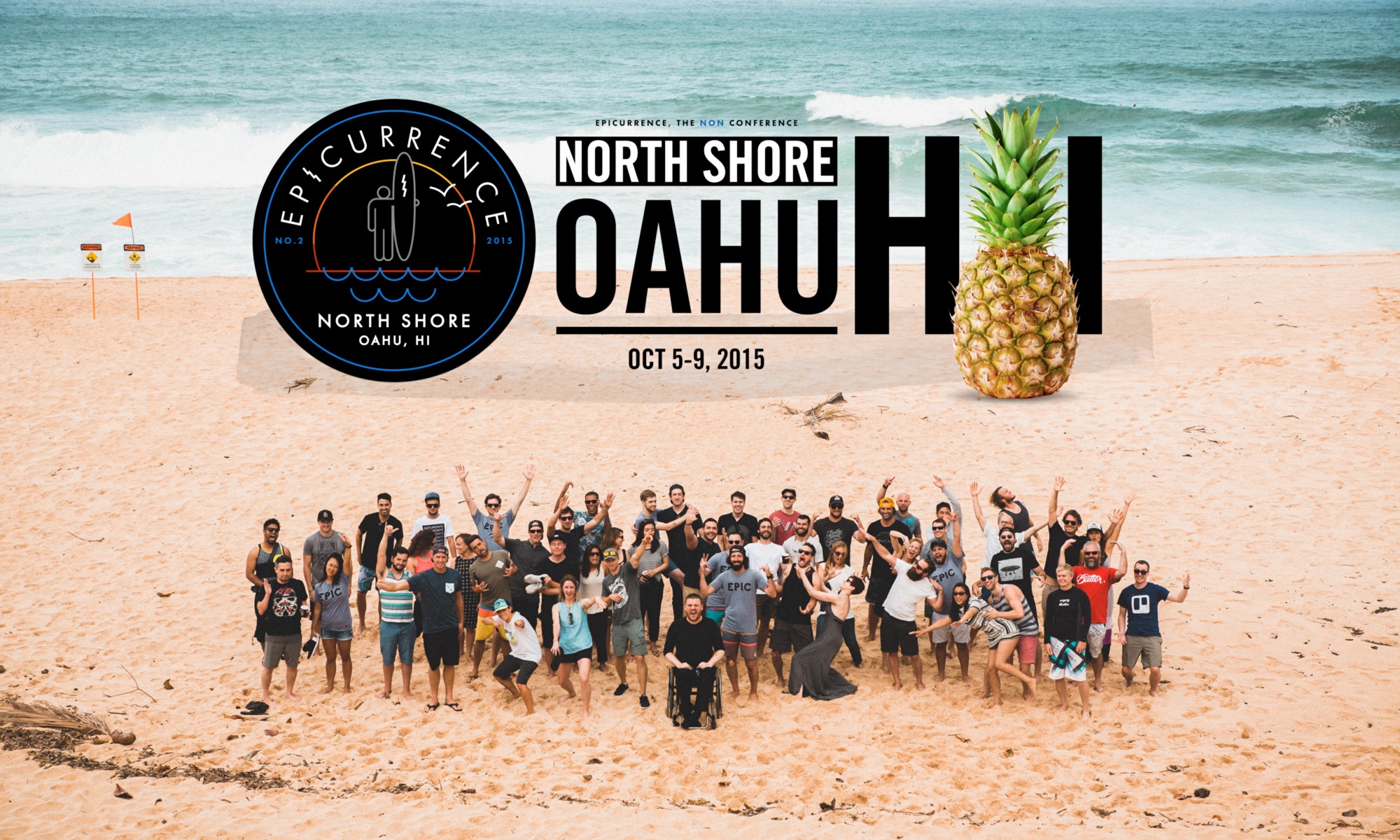 Epicurrence 2.0 - The Non-Conference
Epicurrence is a gathering for the creatives, the makers. It's for the ones looking for the biggest inspirational thrill ride. Loaded with a full week of surfing, helicopters, unheard of stories from the all-stars and inspiration everywhere. I helped Dann Petty bring 70 of the worlds' best creatives to HI for a week to learn, play, connect and discover.
Testimonials here: Daniel Mall, Toby Grubb, Andrew Verboncouer, Jessica Collier, and Dann Petty.
Photo: Rico Castillero
Perspective
Balance is the key. Attendees were given a forum to expand both their physical and mental capacities. In addition to compelling speakers, dialogue and inspiration, there were plenty of opportunities for exploration and adventure.
One person who didn't know how to swim took surfing lessons. Another took flight in a heli for the first time. And I can definitelysay that none of us had ever successfully ridden a SUP-Squatch before - thanks Jamie!
Dive In
As with everything in life, you get out only what you put in.
Toby Grubb, Waimea Jump Rock.
Photo: Rico Castillero
Supsquatch
If you ever have the chance to ride a Supsquatch with Jamie O'Brien, do not give it a second thought.
Hands down, one of the many highlights of the trip.
Photo: Rico Castillero
Who is J.O.B?
Looking for laughs and juvenile entertainment? Look no further.
Who is J.O.B? is Jackass meets Aquaman and Jamie and cast of merry pranksters are the stars.
Photo: Rico Castillero
Feed the Mind
Creating a comfortable environment where people can truly let their guard down, be present and connect in an authentic way means thinking about every aspect of the experience.
Chef Jason Simon and his team delivered gourmet experiences that would have impressed even the most sophisticated gastronome.
Photo: Rico Castillero
T Mossian Technology
We were fortunate to kick off our festivities with a stroll through the diverse mixed media archive of Thomas Campbell. And when we thought it couldn't get any better, The Mattson 2 joined Thomas for a live impromptu jazz set played over unpublished raw surf footage.
Photo: Rico Castillero
Rock On
The Mattson 2 delivered their trademark jazz meets surf fusion set while Thomas Campbell's visceral images inspired the crowd.
Photo: Rico Castillero
When in Hawaii
Did I already mention how good the food was?
Chef Simon made sure maximize local flavors and ingredients at every meal.
Photo: Rico Castillero
Trust Tree
A small group dynamic fosters dialogue that doesn't occur in your normal conference environment. Letting your guard down with your peers is a liberating experience.
Photo: Rico Castillero
Location, Location, Location
There is no way to understate the value of location when selecting a destination for your non-conference.
Photo: Rico Castillero
Super Food
If Acai is a superfood, then combining it with the rest of these ingredients must be good for you.
Photo: Rico Castillero
Talk Story
I had the distinct privilege of interviewing Mark Healey on life, death, swimming with sharks, facing your fears and living life to the fullest.
Takeaway: you get a very limited time in this place, make it count and follow your passions.
Photo: Rico Castillero
Epicurrence No.2 North Shore - Oahu, Hawaii
Press play for the full experience.